First of all, I want to thank all those nine brave startups to pitch their ideas to the great audience of almost 90 people at the 11th LeanStartupMeetup Berlin!
MVP stands for minimium viable product  and describes a strategy to test your product on the way to market readiness. The aim is to deliver one value proposition to your customer. Based on the feedback you get you are able to develop your product further or change your strategy into a new direction.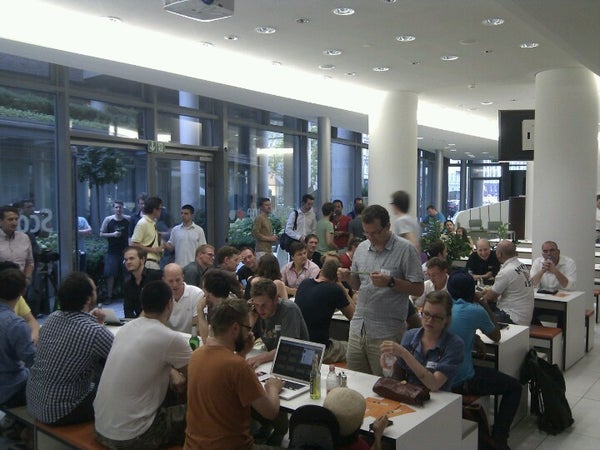 1 – Lilian Masuhr @ Sozialhelden (Pitch): The idea behind "Sozialhelde" is to raise awareness in people's mind regarding problems in the society. Above all, they do not only want to come up with ideas, but actively help to make a change!
2 – Hans Christian Heinemeyer @ ePortrait (Pitch): "ePortrait" is an online service that helps people to get correct biometric passport photographs taken. Their first clients are health insurances because the new health inssurance cards will have a photo on it soon.
3 – Augustin Friedel @ FounderHub (Pitch): FounderHub is a global network of startups, which gives its members access to three main resources (founding, people and knowledge). What you actually see on their website right now – is their current MVP 😉
4 – Christian Richter @ Hadoop on Demand (Pitch): Your are dealing with big data. Data that is so huge that normal database processing languages are not able to process it any more? Hadoop on Demand helps to compute your big data in the cloud.
5 – Stefan Broda & Ozkan Akkilic @ Grenander Mobile (Pitch): Grenander.mobile attempts to solve the problem of customers waiting in restaurants for the waiter. Via a mobile solution and QR-codes you are able to order food, drinks and the bill via your phone. Thus, the waiter knows that he or she should approach you shortly.
6 – Daniel Frese @ Intro (Pitch): "They are everywhere … – people!" That is how Daniel started to pitch his idea about an app that introduces you to an interesting business contact each day.
7 – Kai Hendry @ Webconverger (Pitch): WebConverger is an open source kiosk software for your electronic billboards. Just plug the USB stick with an operating system to your screen and let people really interact between the real world and their social friends on Facebook, Twitter, and the list goes on.
8 – Ben @ TimeCapsule (Pitch): Instead of Michael, we had Ben on the stage presenting TimeCapsule. TimeCapsule wants to bind art (music, movies) to a specific time and place. The idea is that you should experience in person how the actor or director felt during the shot.
9 – Alban Leveau-Vallier @ Coworfing (Pitch): Coworfing – not coworking! Coworfing is a platform where you can share the best places to work. The focus is not on offices, but more on cafés or private flats if people do not want to work alone.
If you have more questions or feedback for those entrepreneurs – feel free and get in touch with them. Customer feedback is highly appreciated.
Finally, thank you very much again to ThinkTankProductions for video recording and editing. You will find a YouTube-Playlist of the MVP-PitchDay here!